The guitar of the month for January, 2020 is the Classic Vibe Squier Mustang Bass in Olympic White.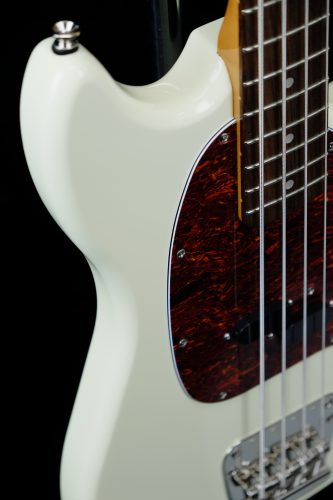 The gloss finish has a white undertone and cream accents blending through the contours under a classic tortoise three-ply pick-guard.

The Fender Mustang was introduced into production in 1966 and was the last bass designed by Leo Fender before his departure from the company. Don't be fooled by it's small stature, this is a versatile and capable performer with a full voice.

Built on the same body shape as the Music Master, Bronco, and DuoSonic, the Mustang Bass is a short-scale with thru body strings. This lends to a tighter string response and articulation. The high-mass bridge creates a lot of sustain for a smaller bass. This bass is super comfortable to play and lends itself to chording and aggressive playing styles, but you can dial it back and bring out some big fundamental tone playing toward the neck, especially with flat wound strings.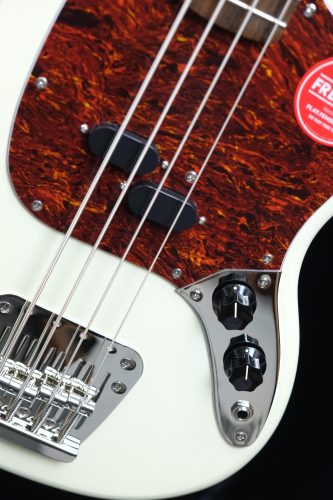 The electronics are built around a split coil alnico pickup with single volume and tone knobs and packs a surprising amount of punch with bright harmonics.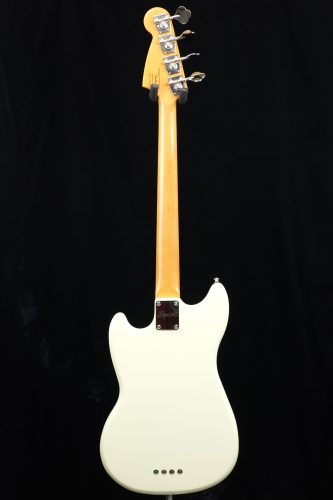 9 1/2″ radius c-shape neck in vintage tint gloss and nickel plated hardware all for just $349!